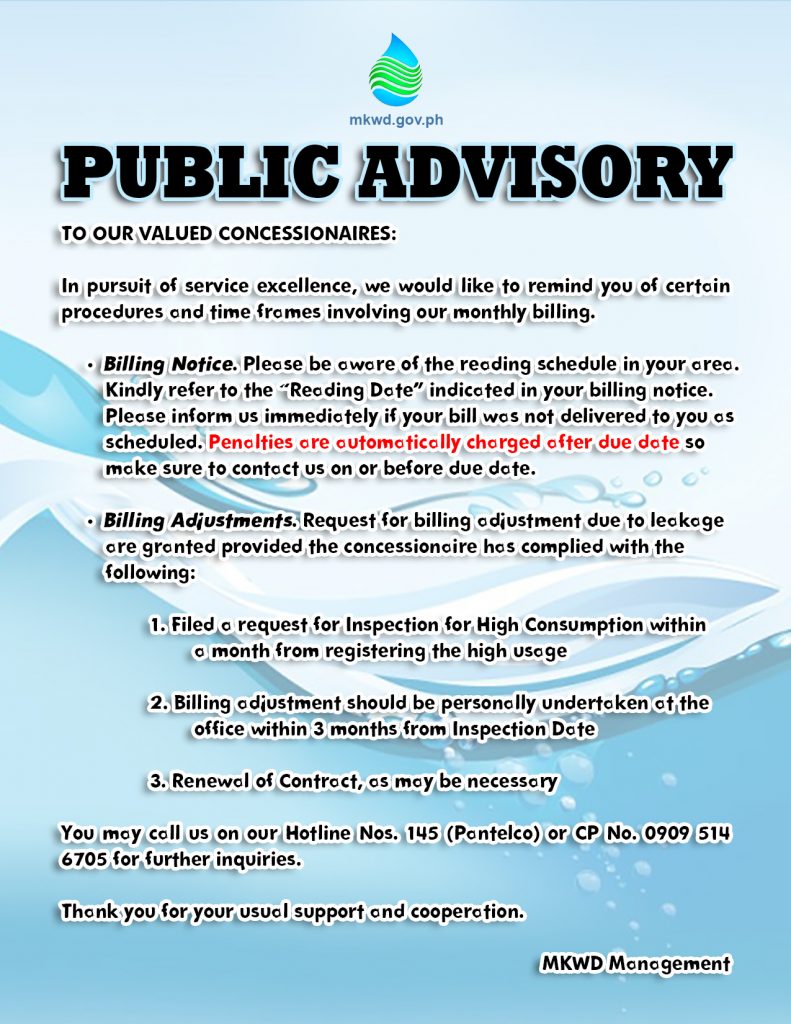 To our valued concessionaires:
In pursuit of service excellence, we would like to remind you of certain procedures and time frames involving our monthly billing.
• Billing Notice. Please be aware of the reading schedule in your area. Kindly refer to the "Reading Date" indicated in your billing notice. Please inform us immediately if your bill was not delivered to you as scheduled. Penalties are automatically charged after due date so make sure to contact us on or before due date.
• Billing Adjustments. Request for billing adjustment due to leakage are granted provided the concessionaire has complied with the following:
1. Filed a request for Inspection for High Consumption within a month from registering the high usage
2. Billing adjustment should be personally undertaken at the office within 3 months from Inspection Date
3. Renewal of Contract, as may be necessary
You may call us on our Hotline Nos. 145 (Pantelco) or CP No. 0909 514 6705 for further inquiries.
Thank you for your usual support and cooperation.
MKWD Management
——————————————————–
* * Over the counter of Payment centers * *
✓ Any branches of Palawan Pawnshop (Please bring your billing notice)
✓ SM Savemore at Citymall Kalibo (Please bring your billing notice)
✓ Philippine Veterans Bank (Please bring your billing notice)
* * Online Payment option * *
✓ Gcash Paybills Facility (Water Utilities/Metro Kalibo Water District)
——————————————————-
For any inquiries please contact us:
Trunkline: 268-6828 | 268-1196 | 268-9231
FAX: 268-4200
Tel: 1620 (Cruztelco) | 145 (Pantelco)