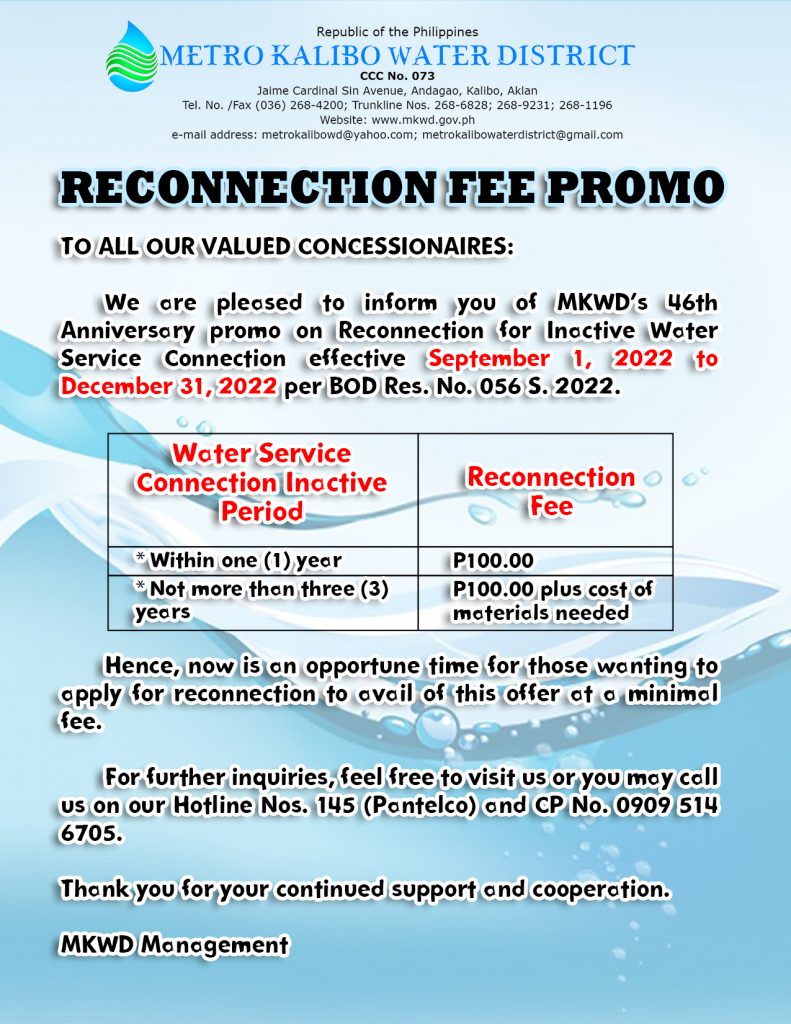 To our valued concessionaires:
We are pleased to inform you of MKWD's 46th Anniversary promo on Reconnection for Inactive Water Service Connection effective September 1, 2022 to December 31, 2022 per BOD Res. No. 056 S. 2022.
Water Service Connection Inactive Period Reconnection Fee
 Within one (1) year P100.00
 Not more than three (3) years P100.00 plus cost of
materials needed
Hence, now is an opportune time for those wanting to apply for reconnection to avail of this offer at a minimal fee.
For further inquiries, feel free to visit us or you may call us on our Hotline Nos. 145 (Pantelco) and CP No. 0909 514 6705.
Thank you for your continued support and cooperation.
——————————————————–
* * Over the counter of Payment centers * *
✓ Any branches of Palawan Pawnshop (Please bring your billing notice)
✓ SM Savemore at Citymall Kalibo (Please bring your billing notice)
✓ Philippine Veterans Bank (Please bring your billing notice)
* * Online Payment option * *
✓ Gcash Paybills Facility (Water Utilities/Metro Kalibo Water District)
——————————————————-
For any inquiries please contact us:
Trunkline: 268-6828 | 268-1196 | 268-9231
FAX: 268-4200
Tel: 1620 (Cruztelco) | 145 (Pantelco)