Learn more About MKWD! Our Mission, Vision, and Values!
The original water supply system of the Municipality of Kalibo was constructed by the Department of Public Works and Highways sometime in 1960 and operated by the now-defunct National Water Works and sewerage Administration (NAWASA) until 1976. The Sangguniang Bayan Kalibo passed Resolution No. 15 dated July 29, 1976, for the formation of the Water District. On September 28, 1976, the 5-member Board of Directors representing the various sectors of the society, namely: women, educational, professional, civic, and business organizations were appointed by then-Mayor Federico Icamina, hence, the district was born.
On January 30, 1979, Local Water Utilities Administration (LWUA) issued a Certificate of Conditional Conformance (CCC) No. 73 and since then, Kalibo Water District was subjected to the provision of Presidential Decree 198 otherwise known as the Provincial Water Utilities Act of 1973.
There was a time during its infancy stage that the operation and salaries of employees of the Kalibo Water District were subsidized by the Municipal Government of Kalibo, until such time that it has availed of technical and financial assistance from LWUA by way of loan. The water district was the recipient of a loan package from LWUA in the amount of Php 4.8M sourced from USAID for the construction of Phase I Intern improvement Program for source development and expansion programs.
On March 12, 1992, the entry of the judgment of the Supreme Court ruling in the Davao City Water District, et al. vs. CSC and COA declaring all water districts as Government-Owned and Controlled Corporation (GOCC) started the transition of water districts from private character/operation to government character/operation hence, under the mandatory regulations and supervision of various government agencies such as Commission on Audit, Civil Service Commission and other government agencies directly involved in the water district operation.
As the annexation of the Municipalities of Banga and New Washington was accepted on September 5, 1991, and March 5, 1992, respectively, the water district availed of Php 140.0M loan from LWUA sourced out from JBIC (formerly OECF) to finance its Phase II Improvement Program completed on 1999. The water district, being consistent with its mandate, was officially re-categorized from medium to big water district in February 1996. With the annexation of another nearby town in view and the various expansion projects accomplished, the water district was renamed to Metro Kalibo Water District (MKWD) in March 2002. The annexation of the Municipality of Balete was approved on March 25, 2002. With the progress and development, the district has so far accomplished, upgrading of Metro Kalibo Water District (MKWD) from big water district category to large category was approved in August 2003. On February 12, 2007, the annexation of three (3) barangays of Batan namely Camaligan. Magubahay and Caiyang (CAMACA) were approved.
By keeping with good management practices, the Metro Kalibo Water District (MKWD) received various awards such as Outstanding Water District of Years 2003, 2005, 2006, and 2007 in the Large Category both in the national and regional levels.
The Kalibo Water District started with an initial 380 household connections in 1976 and now, Metro Kalibo Water District (MKWD) has total household connections of 25,280 as of April 30, 2014. In the past few years, MKWD has engaged in the supply of bulk water with Numancia Water District as its newest client with the interconnection of the P 4.6M Kalibo-Numancia Bridge Crossing last July 2012.
To support the continued expansion of its service coverage area, the district has implemented the construction of a 1,000 cubic meter Elevated Steel Ground Water StorageTank at Estancia, Kalibo which is now operational.
In May of 2015, the Datem Water, Inc. commenced the delivery of bulk water supply treated with ultra-filtration technology. The facility has a capacity of 10,000 cubic meter per day designed to provide filtered water to the people of Kalibo.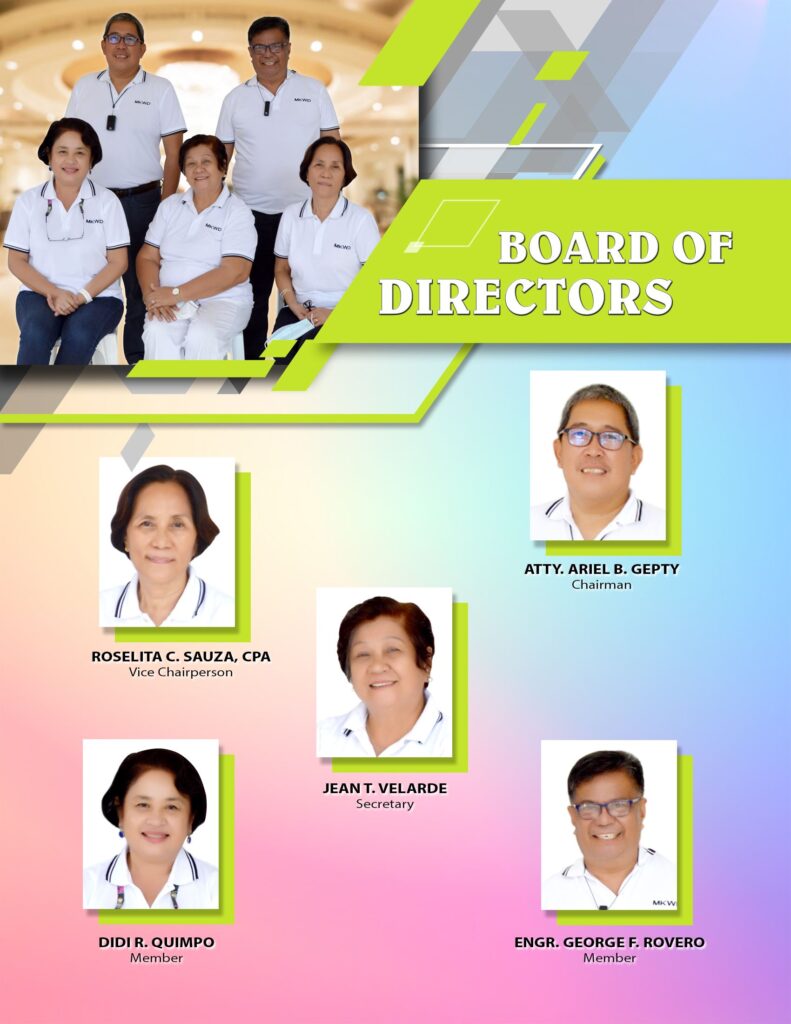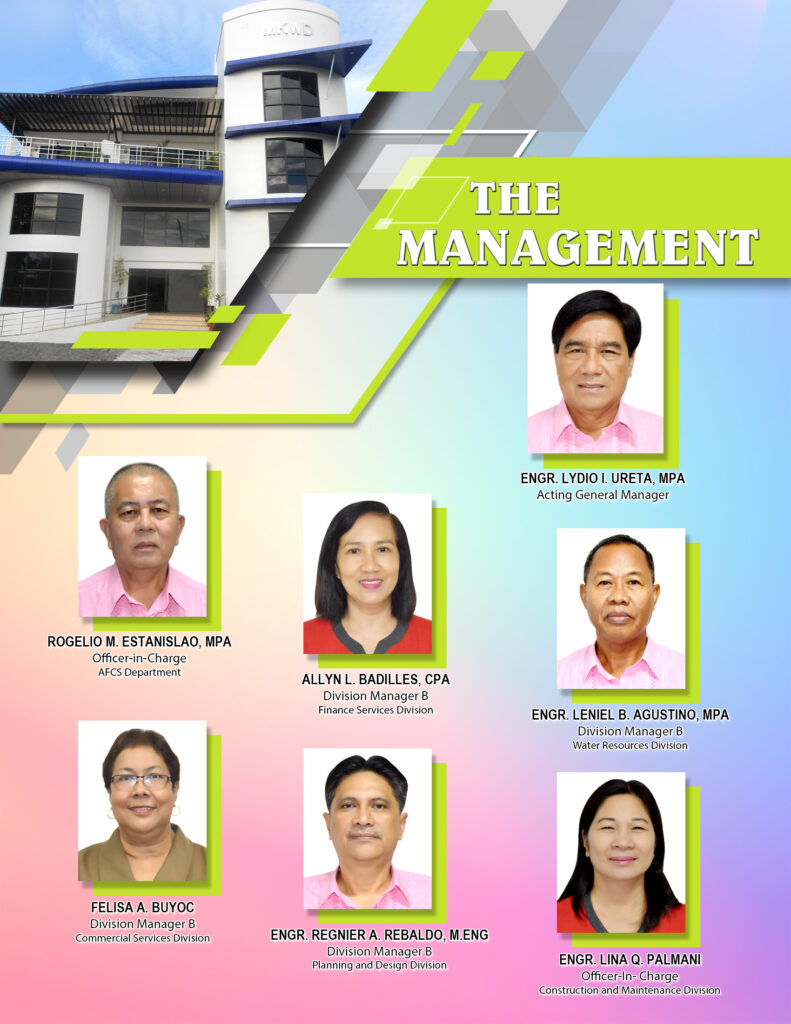 Metro Kalibo Water District (MKWD), an institution that meets and satisfies the expectations of its stakeholders with highly competent personnel rendering professionalized service and with an open organizational settings.
To supply adequate, potable, affordable and reliable water to its stakeholders;
To achieve financial stability, sustain self-reliant operation, and fiscal autonomy;
To achieve the highest level of professionalism in the government service by employing highly competent personnel that adheres to transparency and good governance.
Integrity
Excellence
Teamwork
Professionalism
Nationalism
Holy Fear of God
STRATEGIC OBJECTIVES / PRIORITIES
Adequate, potable and reliable 24/7 water Supply
Septage Management
Installation of additional water service connection
Sustainable revenue generation
Social responsibility and responsiveness
Have you tried our Online Services yet?