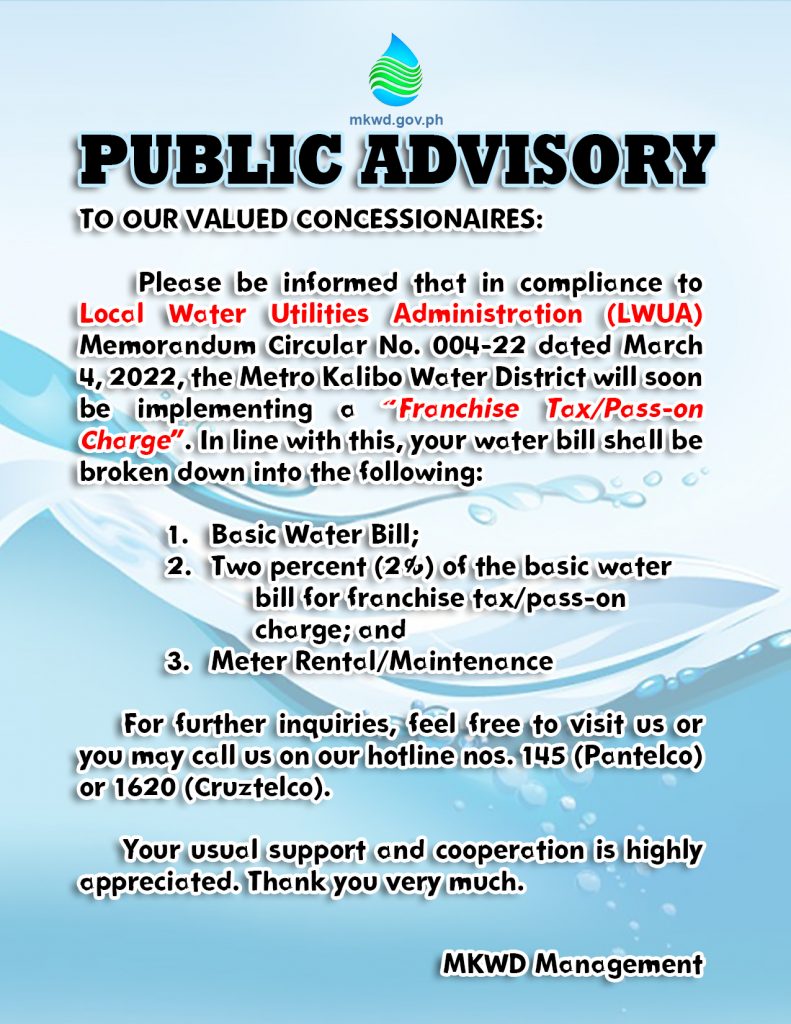 To our valued concessionaires:
Please be informed that in compliance to Local Water Utilities Administration (LWUA) Memorandum Circular No. 004-22 dated March 4, 2022, the Metro Kalibo Water District will soon be implementing a "Franchise Tax/Pass-on Charge". In line with this, your water bill shall be broken down into the following:
1. Basic Water Bill;
2. Two percent (2%) of the basic water bill for franchise tax/pass-on charge; and
3. Meter Rental/Maintenance
For further inquiries, feel free to visit us or you may call us on our hotline nos. 145 (Pantelco) or 1620 (Cruztelco).
Your usual support and cooperation is highly appreciated. Thank you very much.
——————————————————–
* * Over the counter of Payment centers * *
✓ Any branches of Palawan Pawnshop (Please bring your billing notice)
✓ SM Savemore at Citymall Kalibo (Please bring your billing notice)
✓ Philippine Veterans Bank (Please bring your billing notice)
* * Online Payment option * *
✓ Gcash Paybills Facility (Water Utilities/Metro Kalibo Water District)
——————————————————-
For any inquiries please contact us:
Trunkline: 268-6828 | 268-1196 | 268-9231
FAX: 268-4200
Tel: 1620 (Cruztelco) | 145 (Pantelco)